Laost otsas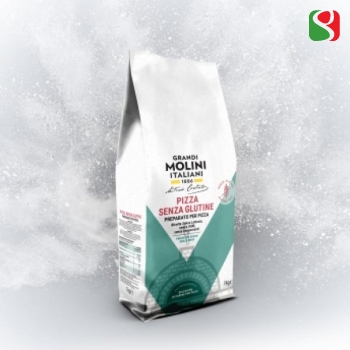 Zoom
"GLUTEN FREE" Pizza Flour mix - 1 kg
Unit:
Pieces
Qty:
Contact us by email to order this item
Price:
10,99 €
10,99 €/Kg
"GLUTEN FREE" Pizza Flour mix - 1 kg
FEATURES
Semi-finished product for the production of gluten-free pizza.
"Pizza Senza Glutine" is an ideal blend for making pizza and baked goods for people with celiac disease or who cannot
consume foods containing gluten.
This product has less than 20 ppm of gluten.


Bag of 1 kg. A carton contains 12 kg.




INGREDIENTS: Corn starch, swallowed wheat starch, rice flour, sugar, dextrose, vegetable fibers (psyllium, inulin), tapioca starch, corn sourdough, red teff flour, lentil flour, thickeners: guar, E464 ; malt (corn), flavorings.



VALORI NUTRIZIONALI MEDI PER 100g:

ENERGIA 1464 kJ / 345 kcal 

GRASSI <0,5 g 
DI CUI ACIDI GRASSI SATURI < 0,1 g 
CARBOIDRATI 82 g 
DI CUI ZUCCHERI 4,7 
FIBRE 6,1 g 
PROTEINE 0,7 g
SALE <0,01 g 
RECIPE for GLUTEN FREE PIZZA
Method of preparation:
GMI gluten-free mix 1000g, water 950g (at a temperature of 6/8 ° C), dry yeast 10g, oil 50g and salt 30g
1) mix in a planetary mixer with leaf on speed 2 for 5 minutes with yeast, water and salt;
2) add the oil to the dough and mix for another 2 minutes at minimum speed;
3) let the dough rest for 60 minutes in the refrigerator at + 4 ° C;
4) break into 250 / 280g batters and work the individual portions in order to make the dough homogeneous;
5) Roll out the batters and bake the pizza seasoned to taste in a hot oven at 350 ° C for 2-3 minutes.