Laost otsas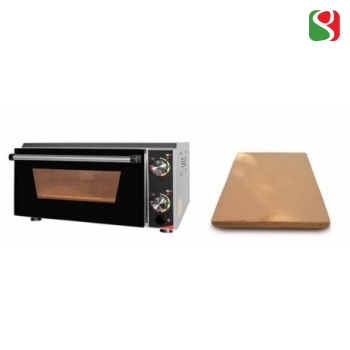 Zoom
PIZZA Electric Oven - 500° C. 2,8kW + "Pizza Cookie plate" - (inner dimensions 35x40x9 cm) - Net Weight: 28,5 Kg - Nr pizza: 1 - Pizza cm: 34 Cm
Unit:
Pieces
Qty:
Contact us by email to order this item
Price:
989,00 €
34,70 €/Kg
PIZZA Oven, 500°C., 2,8kW + "Pizza Cooky plate" - (inner dimensions 35x40x9 cm) - Net Weight: 28,5 Kg - Nr pizza: 1 - Pizza cm: 34 Cm
The P134h "Easy" Pizza oven is the perfect solution for home-made pizza lovers. Ideal for baking real pizza Napoletana. Easy Pizza differs from other professional domestic ovens for its particular features: low consumption, high performances and fast heating. Moreover, the soft-close door is made up of a triple glass.
Ideal for cooking real "PIZZA NAPOLETANA" due to high cooking temperature (500° C.) and "Pizza Cooky plate".
NB: the delivery time will be around 2 working weeks. For a precise delivery time information please contact us before to place your order.
Main features:

Mechanical control
Stainless steel baking chamber and exteriors
Baking on fireproof stone
Baking chamber with internal light
Thermostats 500°C
External toughened glass, intermediate toughened glass and internal ceramic glass
Soft-close door gasket
Cold exteriors (forced ventilation) when baking
Stainless knobs
Industrial door joints