Laost otsas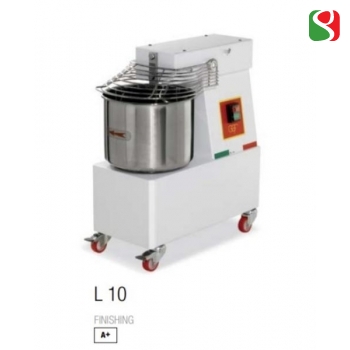 Zoom
spiral kneaders to make pizza dough - dimensions: 300mm (width) x 550mm (length) x 320mm (height); 230-400/50 V/Hz, power 0,5 Hp, weight of mix 8 Kg, volume of mix 10 Lt, weight of the machine 41 ca. Kg
Unit:
Pieces
Qty:
Contact us by email to order this item
Price:
999,00 €
24,37 €/Kg
spiral kneaders to make pizza dough - dimensions: 300mm (width) x 550mm (length) x 320mm (height); 230-400/50 V/Hz, power 0,5 Hp, weight of mix 8 Kg, volume of mix 10 Lt, weight of the machine 41 ca. Kg
The spiral kneaders of the L line with fixed head and bowl, are suitable for any type of dough.
The structure of the machine is painted while the bowl, spiral and the protective grid are made of stainless steel; all the machines are equipped with wheels, timer and dough breaker pin.