FIORDICARCIOFO ALLA ROMANA - ARTICHOKES ROMANA STYLE
Unit:
metallkast
Qty:
In Stock
Price:
30,95 €
12,14 €/Kg
FIORDICARCIOFO ALLA ROMANA - ARTICHOKES ROMANA STYLE
INGREDIENTS: Artichokes (52%), sunflower seed oil (42%), water, wine vinegar, salt, parsley, garlic, basil, natural flavour, acidity regulator:
citric acid, antioxidant: L-ascorbic acid.
NUTRIONATIONAL VALUE X 100 G:
Energetic value (KJ): 1749 kJ
Energetic value (KCAL): 424 kcal
Fat: 41,7 g
Saturated fats: 4,6 g
Carbohydrates: 4,9 g
of which sugars: 3,7 g
Protein: 5,3 g
Salt: 1,35 g
Fiber: 4,1 g
Whole artichokes with stem, flavoured delicately and preserved in sunflower oil. 

Made with fresh artichokes and processed by hand: these artichokes undergo a traditional process which includes manual trimming of the fresh artichokes and then delicate blanching to preserve their consistency and natural colour. 

100% Italian artichokes (from Apulia region): Italy and in particular the south of Italy is the geographical area in the world with the highest production of this vegetable. Italian artichokes are considered the best quality with higher organoleptic characteristics than those cultivated and produced in Spain (second world producer) whose flavour is blander and the colour tending more to yellow. 

Tasty recipe: The artichokes ROMANA of Greci are prepared according to a recipe that uses sunflower oil and herbs. The recipe is delicate but appetizing, giving the product a very pleasant flavour. 

Excellent for grilled starters and mixed side dishes.

Artichokes Giudia style: drain the artichokes and season with salt and pepper. Heat oil in a pot, place the artichokes stem up and cook for a few minutes. Drain from the oil and serve steaming hot.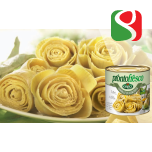 Artichoke hearts in oil - 2,55kg
,
Qty:
In Stock
,
Delivery time:
14 days
41,63 €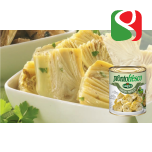 CARCIOFI TRIFOLATI - Sauteed artichoke halved hearts
15,47 €