Artichoke hearts in oil - 2,55kg
Unit:
metallkast
Qty:
In Stock
Delivery time:
14 days
Price:
41,63 €
16,32 €/Kg
Artichoke hearts in oil - 2,55kg
INGRIDIENTS: Artichokes (60%), Sunflower Seed Oil (34%), Salt, Garlic, Pepper,
acidity regulator: citric acid, antioxidant: ascorbic acid.

NUTRIONATIONAL VALUE x 100 G:
Energetic value (KJ): 1543 kJ
Energetic value (KCAL): 369 kcal
Fat: 34,7 g
Saturated fats: 3,9 g
Carbohydrates: 5,6 g
of which sugars: 4,3 g
Protein: 6,1 g
Salt: 1,5 g


Gluten-free. Dairy-free.
This product does not contain genetically modified organisms.



Fresh artichoke hearts, selected quality, bottom removed, marinated in oil.


Artichokes of 100% Italian origin

 (Apulia region only).


Prepared by hand: the outer leaves are removed by hand.

This product is ideal: for appetizers, side dishes and an excellent artichoke pizza; to garnish cold platters and many other creative preparations.
Net Weight 2500g.
Number of pieces per tin: 44 - 58.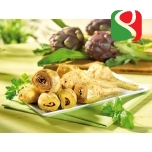 FIORDICARCIOFO ALLA ROMANA - ARTICHOKES ROMANA STYLE
30,95 €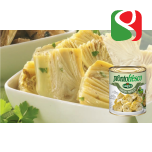 CARCIOFI TRIFOLATI - Sauteed artichoke halved hearts
15,47 €