CARCIOFI TRIFOLATI - Sauteed artichoke halved hearts
Unit:
metallkast
Qty:
In Stock
Price:
15,47 €
19,83 €/Kg
CARCIOFI TRIFOLATI - Sauteed artichoke halved hearts
INGREDIENTS: Artichokes (58%), sunflower seed oil (34%), salt, parsley (1%), garlic, pepper, acidity corrector: citric acid, antioxidant: L-ascorbic acid.
It may contain traces of MILK AND DERIVATIVES, CELLERY, NUTS.

NUTRIONATIONAL VALUE x 100 G:
Energetic value (KJ): 1561 kJ
Energetic value (KCAL): 373 kcal
Fat: 35,3 g
Saturated fats: 3,9 g
Carbohydrates: 5,5 g
of which sugars: 4,2 g
Protein: 6,0 g
Salt: 1,20 g

PRODUCT DESCRIPTION
Top quality fresh artichokes from Italy (Puglia region), stems removed, cut in half, cooked with herbs.
Processing from fresh: The artichokes are harvested and processed only in the campaign period (from the end of March to the beginning of May) when the season naturally offers a natural vegetable with excellent organoleptic features (therefore we are not dealing with artichokes prepared with raw material from greenhouses, or frozen, or preserved in brine).
Delicate pan-frying in oil, garlic, and parsley: the browning of the artichokes with oil, parsley and garlic is done very gently, in order to give the products a highly agreeable flavour. 

Serving suggestions:The product is perfect: as an excellent side dish and as an hors d'oeuvre; superb as a base for diverse preparations. Ideal for pizzas and bruschettas, sandwiches.
NEt weight 800g.

USE
Ideal as appetizer, excellent as a side dish and perfect base for
various preparations born out of the chef's imagination and
creativity.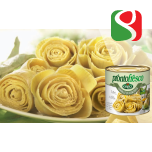 Artichoke hearts in oil - 2,55kg
,
Qty:
In Stock
,
Delivery time:
14 days
41,63 €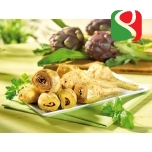 FIORDICARCIOFO ALLA ROMANA - ARTICHOKES ROMANA STYLE
30,95 €