ZAMPONE P.G.I. - 1kg
Unit:
Pieces
Qty:
In Stock
Price:
16,67 €
16,67 €/Kg
ZAMPONE P.G.I. - 1kg
WEIGHT: kg 1.
QUALITY: made in the town that hosts the "world's biggest zampone" festival every year. A pork shoulder and rind filling in a casing consisting of the skin of a pig's front trotter, which gives it its shape. Produced in accordance with the Zampone Modena Consortium regulations.
FLAVOUR: characteristically tasty and succulent.
Gluten-free. Glutamate-free. Dairy-free. Only natural flavors.
Preparation: put aluminium bag in hot water and boil it for 20 minutes. open the aluminiun bag: watch out!!! Inside there is very hot liquid to drain away. Cut in slices of your choice and serve it with smashed potatoes, Fagioli all'uccelletto side dish, sourkrauts, rosted potates,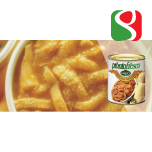 "Trippa alla Parmigiana" Parma town traditional recipe Tripe – 800gr
12,89 €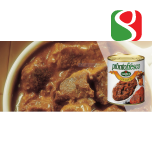 "Goulash" Hgh Quality recipe, 800g
16,19 €