"Goulash" Hgh Quality recipe, 800g
Unit:
metallkast
Qty:
In Stock
Price:
16,19 €
20,24 €/Kg
"Goulash" Hgh Quality recipe, 800g
INGREDIENTS: Beef (65%), tomato pulp (8%), onion, sunflower oil, triple concentrated tomato paste, salt, potato starch, sugar, paprika (0,3%), cumin (0,1%).
It may contain traces of MILK AND DERIVATIVES, cellery, NUTS.

NUTRIONATIONAL VALUE x 100 G:
Energetic value (KJ): 694 kJ
Energetic value (KCAL): 166 kcal
Fat: 10,8 g
Saturated fats: 3,8 g
Carbohydrates: 3,2 g
of which sugars: 2,3 g
Protein: 14,3 g
Salt: 1,40 g

EXCELLENT MAIN COURSE. Prepared using top-class beef, flavored with tomato and paprika, Net weight 800g.

SERVING SUGGESTIONS: The product is perfect as a main course or one-course meal accompanied by rice or mais "polenta".

PREPARATION: just heat it up.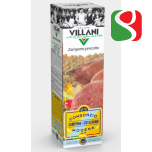 16,67 €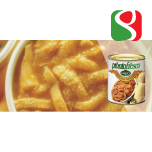 "Trippa alla Parmigiana" Parma town traditional recipe Tripe – 800gr
12,89 €