Laost otsas
Zoom
Spelt and legumes ready soup - Tuscan style vegetables soup – 820gr
Unit:
metallkast
Qty:
Contact us by email to order this item
Spelt and legumes ready soup - Tuscan style vegetables soup – 820gr
INGREDIENTS: Pulses (50%) (cannellini beans 18%, chickpeas 15%, cowpeas 9%, lentils 8%), water, whole SPELT (12%), extra virgin olive oil (2%), onion (1,9%), carrot, iodized sea salt (0,75%) (sea salt, potassium
iodate 0,007%), vegetable fiber, triple tomato paste, natural flavouring, black pepper.

NUTRIONATIONAL VALUE x 100 G:
Energetic value (KJ): 742 kJ
Energetic value (KCAL): 177 kcal
Fat: 5,2 g
Saturated fats: 0,5 g
Carbohydrates: 24,5 g
of which sugars: 0,9 g
Protein: 8,5 g
Salt: 1,00 g
Fiber: 5,9 g

PRODUCT DESCRIPTION
Made with wholewheat spelt and a delicious blend of pulses: chickpeas, cannellini beans, black-eye peas and lentils. With iodised sea salt and Extra Virgin Olive Oil. Prepared with iodized sea salt
and extra virgin olive oil, without garlic.
Certified "Gusto e Benessere" - Art Joins nutrition.

Add to the product equal quantity of water and heat it up to serve it hot. 8 portions from 1 tin. 

The soup is tasty and balanced and doesn't need to add salt or fat. 

USE
Ideal to prepare soups and minestrone. To prepare the "Gusto e
Benessere" soup, dilute the content of a can with the same volume of hot water.
Laost otsas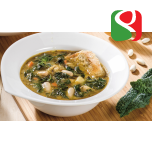 "RIBOLLITA ALLA TOSCANA" Tuscan style vegetables ready soup - 820g
,
Qty:
Contact us by email to order this item
6,99 €