Laost otsas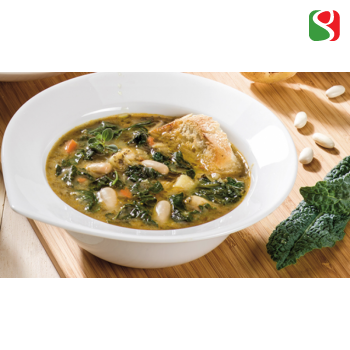 Zoom
"RIBOLLITA ALLA TOSCANA" Tuscan style vegetables ready soup - 820g
Unit:
metallkast
Qty:
Contact us by email to order this item
"RIBOLLITA ALLA TOSCANA" Tuscan style vegetables ready soup - 820g
INGREDIENTS: Water, white beans (24%), cabbage (10%), cabbage (10%), potatoes, beets, carrots, extra virgin olive oil (3%), onions, CELLERY, vegetable fiber, salt iodized (0.88%) (sea salt, potassium iodate 0.007%), natural flavors, triple tomato paste, black pepper.

NUTRIONATIONAL VALUE x 100 G:
Energetic value (KJ): 197 kJ
Energetic value (KCAL): 47 kcal
Fat: 1,8 g
Saturated fats: 0,3 g
Carbohydrates: 6,0 g
of which sugars: 2,0 g
Protein: 1,9 g
Salt: 0,60 g
Fiber: 2,1 g

Made with kale, savoy cabbage and Swiss chard, to a traditional recipe, combined with onion, celery and "cannellini" typical Tuscan white beans. Enriched with iodized sea salt and Extra Virgin Olive Oil. Perfect served as it is, simply diluted with water, or in the traditional way by adding slices of Tuscan bread.
Net weight 820g.
Laost otsas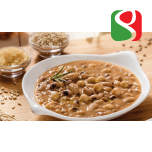 Spelt and legumes ready soup - Tuscan style vegetables soup – 820gr
,
Qty:
Contact us by email to order this item
6,99 €