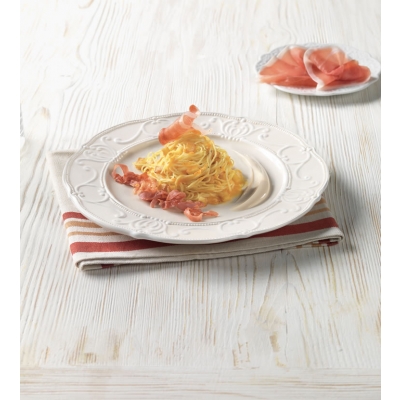 INGREDIENTS for 4 portions:

SMOKED SCAMORZA CREAM 80 g
MANTOVAN PUMPKIN CREAM 150 g
Filini /Tagliatelle "la Pasta di Aldo" 400 g
Raw ham 2 slice
Potatoes 80 g
Salt and Pepper To Taste.

PREPARATION
Peel and cut the potatoes into cubes of about 1 cm, cook them in a pan, add the Pumpkin Cream
and season with salt and pepper. Cook the pasta in abundant salted water, sauté it in the pan with the pumpkin.
Aside, cut the raw ham into julienne strips and roast in a pan to make it crispy by dissolving the fat. In this way the fat will be drained and a lighter preparation will be obtained.
Serve the Filini with a tuft of Smoked Scamorza Cream and complete with the crispy raw.