Laost otsas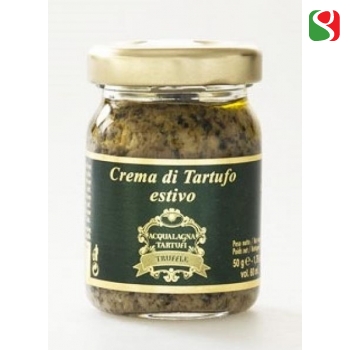 Zoom
SUMMER TRUFFLE CREAM 90 gr
Unit:
Klaaspurki
Qty:
Contact us by email to order this item
Price:
15,89 €
176,56 €/Kg
SUMMER TRUFFLE CREAM 90 gr
INGREDIENTS: BLACK SUMMER TRUFFLE (TUBER AESTIVUM VITT. AND REL. GROUP), EXTRA VIRGIN OLIVE OIL, SALT.
NUTRIONATIONAL VALUE x 100 G:
Energetic value (KJ): 1237 kJ
Energetic value (KCAL): 300 kcal
Fat: 31 g
Saturated fats: 5,5 g
Carbohydrates: 1,8 g
of which sugars: <0,5 g
Protein: 4,2 g
Salt: 0,39 g
Fiber: 9 g

Product made up of black summer truffle (Tuber Aestivum Vitt.), Extra virgin olive oil and salt.
The cream is prepared by grinding the truffle granularly, combining it with extra virgin olive oil and salt.
It is especially indicated for the preparation of first courses or for the preparation of bruschetta and sandwiches with the addition of extra virgin olive oil, minced garlic and anchovy paste.
Once opened, the product should be covered with extra virgin olive oil and stored in the fridge.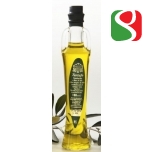 Extra Virgin Olive Oil flavored with Black Winter Truffle - 100 ml
7,49 €
Laost otsas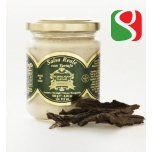 "Reale" Truffle Sauce 90 gr
,
Qty:
Contact us by email to order this item
5,89 €
Laost otsas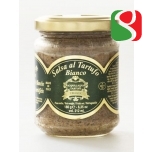 White Truffle Sauce 90 gr
,
Qty:
Contact us by email to order this item
7,39 €