Laost otsas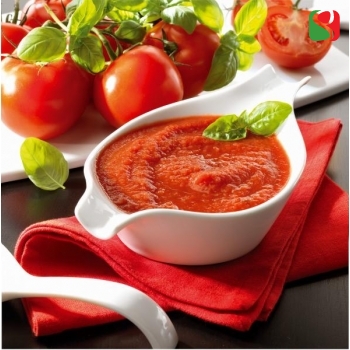 Zoom
PIZZA SAUCE
Unit:
metallkast
Qty:
Contact us by email to order this item
PIZZA SAUCE 4,05 кg
INGREDIENTS: tomatoe (99%), salt, basil (0,3%), spices.

NUTRIONATIONAL VALUE x 100 G:
Energetic value (KJ): 146 kJ
Energetic value (KCAL): 35 kcal
Fat: 0,2 g
of which Saturated fats: 0,1 g
Carbohydrates: 5,7 g
of which sugars: 4,3 g
Protein: 1,5 g
Salt: 0,7 g

Sauce prepared in season with 100% Italian tomatoes. Selected, perfectly ripe fruits, with rich, sweet flavour thanks to the addition of basil and spices, typical ingredients of Mediterranean cuisine.
Ideal for Pizzas and Bruschettas.
100% Italian tomatoes: cultivated in the provinces of Parma, Ferrara, Ravenna, Mantova, Reggio Emilia 
Raw ingredients processed when fresh only during peak season(August– September) when the fruits are perfectly ripe, rapidly and continuously (within 12 hours from picking) to guarantee the typical colour, flavour and sweetness of fresh tomatoes.
Net weight 4,05kg.