Peperoncini "Dolcelacrima" - "Sweet Tears" RED MINI Peppers
Unit:
metallkast
Qty:
In Stock
Price:
13,74 €
17,33 €/Kg
"Sweet Tears" RED MINI Peppers 790g


INGREDIENTS: Red pepper, water, wine vinegar, sugar, salt. Antioxidant: L-ascorbic acid. Thickener: calcium chloride.
NUTRIONATIONAL VALUE x 100 G:
Energetic value (KJ): 360 kJ
Energetic value (KCAL): 90 kcal
of which Saturated fats: 0 g
Fibre: 1,0 g

Sweet peppers, prepared according to a sweet and sour recipe, without oil.
Ideal for salads or decoration, over pizza or bruschetta, in a canapè.

Net weight 790g.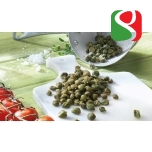 12,95 €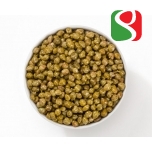 Capers in olive oil - 380 g
9,39 €