PEPERONATA - Cooked peppers in tomato juice
Unit:
metallkast
Qty:
In Stock
PEPERONATA - Cooked peppers in tomato juice
INGREDIENTS

: Peppers (68% min), onion ( 14% min) , triple tomato 

concentrate (5% min), sunflower oil(5% min), sugar, salt, pepper, 

acidity corrector: citric acid.



NUTRIONATIONAL VALUE x 100 G:
Energetic value (KJ): 508 kJ
Energetic value (KCAL): 121 kcal
Fat: 7,3 g
Saturated fats: 0,8 g
Carbohydrates: 11,7 g
of which sugars: 11,7 g
Protein: 1,5 g
Salt: 1,7 g

Gluten-free. Dairy-free.


This product does not contain genetically modified organisms.



Fresh red and yellow peppers of selected quality, cooked with fresh onion and tomato.
SERVING SUGGESTIONS: An excellent second course or pasta and rice accompaniment ; also an ideal side dish with boiled meat, steaks, omelettes. FOR PASTAS: Heat the peperonata on low heat and mix with some pasta. AS A SIDE DISH: like it is or Mix with boiled potatoes.
Net weight 800g.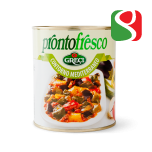 "Contorno Mediterraneo" vegetable side dish ("Caponata") - Cooked peppers, zucchini, eggplant, onions in tomato juice, 800 g
9,59 €