Laost otsas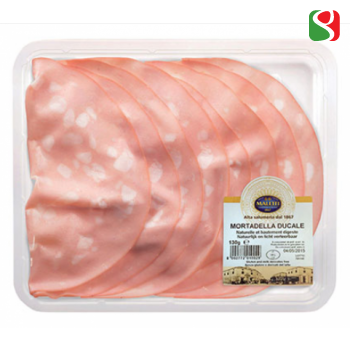 Zoom
""Mortadella Bologna IGP - La Santo" sliced - 130g
Unit:
sealed plastic tray
Qty:
Contact us by email to order this item
"MORTADELLA BOLOGNA PGI - La Santo" sliced - 130g
INGREDIENTS: pork meat, pork tripe, salt, sucrose, spices, natural flavours, antioxidant (sodium ascorbate), preservative (sodium nitrate).
IT MAY CONTAIN TRACES OF PISTACHIO NUTS.
Dairy-free. Gluten-free. Glutamate-free. 
No added polyphosphates. Only natural flavors.

NUTRIONATIONAL VALUE x 100 G:
Energetic value (KJ): 1246 kJ
Energetic value (KCAL): 301 kcal
Fat: 27,0 g
Saturated fats: 11,0 g
Carbohydrates: <0,5 g
of which sugars: <0,5 g
Protein: 14,0 g
Salt: 2,4 g

WEIGHT: g 130
The Mortadella Bologna PGI La Santo is one of the most appreciated Italian mortadellas.
Typical, tasty fragrance, with a sweet flavour and a slight fresh garlic seasoning.