Black Truffle Cream - 400gr
Unit:
metallkast
Qty:
In Stock
Price:
11,22 €
28,05 €/Kg
Black Truffle Cream - 400gr
INGREDIENTS: Cultivated meadow mushrooms (Agaricus bisporus) (80% ), sunflower seed oil, WHEAT flour, black truffles (Tuber aestivum 1,5%), salt, flavourings, sugar, garlic, pepper, yeast extract, antioxidant: L-ascorbic acid.
It may contain traces of MILK AND DERIVATIVES, CELERY, NUTS.

NUTRIONATIONAL VALUE x 100 G:
Energetic value (KJ): 558 kJ
Energetic value (KCAL): 133 kcal
Fat: 10,4 g
Saturated fats: 1,1 g
Carbohydrates: 4,3 g
of which sugars: 0,8 g
Protein: 4,3 g
Salt: 1,40 g
Fiber: 2,8 g

PRODUCT DESCRIPTION
A creamy sauce based on cultivated and finely minced mushrooms,
flavoured with black truffles.

USE
Ideal to prepare first course dishes, to enhance meat dishes, on
toasts and to fill savoury pastries.
 
Laost otsas
"Tuttoporcini" Porcini mushrooms Cream - 800 g
,
Qty:
Contact us by email to order this item
13,89 €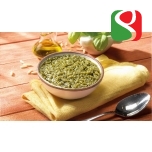 Basil "Pesto Genovese" - 760 g
12,99 €