Laost otsas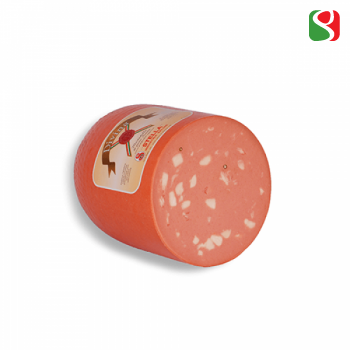 Zoom
Half Mortadella "DIVINA" with Pistacchio, diameter 25cm – around 4,9 kg
Unit:
Pieces
Qty:
Contact us by email to order this item
Half Mortadella "DIVINA" with Pistacchio, diameter 25cm – around 5kg
This "Mortadella Divina" with pistachio is produced with pork meat of EU origin finely chopped, salted and flavored. 

When cut it is pink with white and compact lardons. 

The

"Mortadella Divina" with pistachio 

has a full and intense flavor with spicy notes.
INGREDIENTS: pork (75%), pork fat, salt, dextrose, potato starch, PISTACHIO, flavorings, spices.
TASTE EXALTER: Monosodium glutamate. ANTIOXIDANT: Sodium erythorbate. PRESERVATIVE: Sodium nitrite.

Gluten-free.
Polyphosphates-free.

NUTRIONATIONAL VALUE x 100 G:
Energetic value (KJ): 1445 kJ
Energetic value (KCAL): 347 kcal
Fat: 26,9 g
Saturated fats: 12,7 g
Carbohydrates: 2,30 g
of which sugars: 0,23 g
Protein: 24,7 g
Salt: 4,4 g

Diameter: cm 25
Weight: kg 5 

Mortadella produced with EC with finely chopped pork meat and mixed with salt and flavorings. The "lardelli", the white fat spots, are obtained by dicing the hard back fat of the pig.
When the product is sliced is pink with white and compact white fat spots.
The product is full and intense on the palate with spicy notes.
The mortadella "Divina" is with pistachios and without added polyphosphates.
The product is vacuum packed.