Laost otsas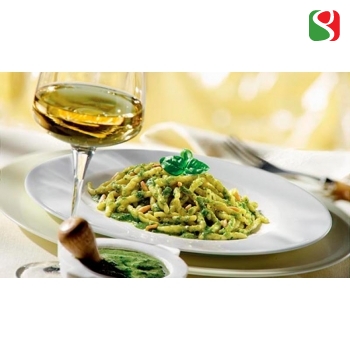 Zoom
FRESH "Pesto Genovese DOP" (extra virgin olive oil, grana padano and pecorino cheese, butter, pine nuts and walnuts) - 1000 g
Unit:
metallkast
Qty:
Contact us by email to order this item
Price:
22,19 €
24,65 €/Kg
FRESH "Pesto Genovese DOP" (extra virgin olive oil, grana padano and pecorino cheese, butter, pine nuts and walnuts) - 1000 g
"Genoese pesto" with "Basilico Genovese DOP" is a typical Liguria region sauce.
Prepared with fresh basil grown in the Genova area and harvested in season.  
It has an intense smell of fresh basil.

This product is made according to the classic regional recipe: extra virgin olive oil, grana padano and pecorino cheese, butter, pine nuts and walnuts.
The intense aroma of basil, coming from the typical PDO area, the sweet taste and the bright color, are the peculiar characteristics of this high quality pesto.

The rich recipe and cold processing make it a product with a very high use yeld (it is very dense). Therefore we asuggest to add hot water wehn using it as a pasta sauce.
This product is ideal: As a condiment for pasta - especially the "trofie" and "trenette/linguine" pastas - and gnocchi. Excellent for adding a special touch to vegetable soups, fish carpaccio and for garnishing bruschettas and pizzas.
AS PASTA SAUCE dilute the Pesto alla Genovese with a little olive oil and a little of the water used to cook the pasta; pour over the pasta. Add parmigiano reggiano cheese at your taste.
INGREDIENTS: extra virgin olive oil (23.5%), Genoa basil P.D.O. (21%), sunflower seed oil, Grana Padano cheese (cow's milk, salt, rennet, preservative: lysozyme (EGG)), butter (MILK), pine nuts, cashew nuts, glucose syrup, salt, nuts, Pecorino cheese (ewe's milk, rennet, rennet, ), garlic, leaven, preservative: potassium sorbate, antioxidant: L-ascorbic acid.

Gluten free. GMO free.

NUTRITIONAL INFORMATION per 100 grams:
Energy content (KJ): 2304 kJ
Energy content (KCAL): 551 kcal
Fats (g): 54.7 g
Of which saturated fatty acids (g): 11.4 g
Carbohydrates (g): 7.1 g
Of which sugars (g): 2.2 g
Proteins (g): 7.2 g
Salt (g): 2.6 g

Weight: 1000 g
This is a fresh product: store in the refrigerator.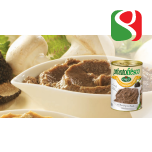 Black Truffle Cream - 400gr
9,59 €
"Tuttoporcini" Porcini mushrooms Cream - 800 g
13,89 €