CARCIOFINI ANTIPASTO - Baby artichokes in olive oil
Unit:
metallkast
Qty:
In Stock
Price:
17,99 €
23,06 €/Kg
CARCIOFINI ANTIPASTO - Baby artichokes in olive oil
INGREDIENTS: Artichokes (64%), olive oil (35%), wine vinegar, salt, acidity regulator: citric acid, antioxidant: L-ascorbic acid .
It may contains traces of MILK AND DERIVATIVES, CELERY, NUTS.

NUTRIONATIONAL VALUE x 100 G:
Energetic value (KJ): 1589 kJ
Energetic value (KCAL): 380 kcal
Fat: 35,5 g
Saturated fats: 5,7 g
Carbohydrates: 6,0 g
of which sugars: 4,6 g
Protein: 6,6 g
Salt: 1,50 g
Fiber: 5,1 g

Artichoke hearts of selected quality, processed from fresh artichokes. The outer leaves removed leaving tender hearts, marinated in olive oil.
Artichokes are of 100% Italian origin, from the region of Apulia, traditionally the best growing area for this vegetable.
Prepared when fresh: the artichokes used to make this fine product are exclusively fresh, picked in the period between March and early May when the vegetables are at their best (no greenhouse artichokes nor frozen artichokes are used).
Worked by hand to accurately clean the artichokes, remove tough leaves and obtain uniform and tender small artichoke hearts. 

Serving suggestions: This product is ideal: straight from the jar, as an appetizer and side dish, or for any creative application.
Net weight 780g.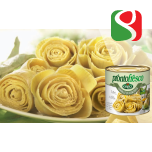 Artichoke hearts in oil - 2,55kg
,
Qty:
In Stock
,
Delivery time:
14 days
40,67 €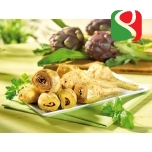 FIORDICARCIOFO ALLA ROMANA - ARTICHOKES ROMANA STYLE
29,87 €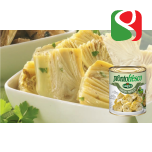 CARCIOFI TRIFOLATI - Sauteed artichoke halved hearts
13,19 €