Laost otsas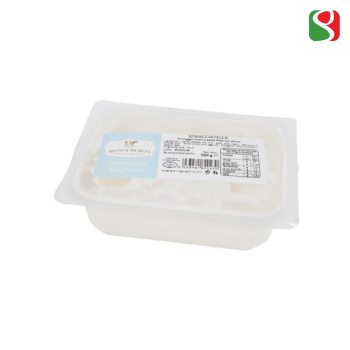 Zoom
"Stracciatella" 250 gr soft cheese
Unit:
plastic basket
Qty:
Contact us by email to order this item
"Stracciatella" 250 gr soft cheese
INGREDIENTS: Pasteurized MILK, CREAM, Salt, Lactic Acid, Natural Rennet.

Weight: 250 g.

NUTRITIONAL INFORMATION per 100 grams:
Energy content (KJ): 1276 kJ
Energy content (KCAL): 305 kcal
Fats (g): 24,6 g
Of which saturated fatty acids (g): 14,7 g
Carbohydrates (g): 2,3 g
Of which sugars (g): 0,9 g
Proteins (g): 18,7 g
Salt (g): 1,3 g
Description

Stracciatella is a term used for three different types of Italian food:

- Stracciatella (soup), an egg drop soup popular in central Italy
- Stracciatella (ice cream), a gelato variety with chocolate flakes, inspired by the soup
- Stracciatella (soft cheese), a variety of soft Italian cheese from the Apulia region using Italian cow milk.

Stracciatella soft cheese (Italian pronunciation: [strattʃaˈtɛlla]) is a cheese produced from Italian cow milk in the province of Foggia, located in the southern Italian region of Apulia, using a stretching and a shredding technique 
(pasta filata) 
.

Stracciatella cheese is composed of small shreds—hence its name, which in Italian is a diminutive of straccia ("rag" or "shred") meaning "a little shred". It is a stretched curd fresh cheese, white in colour, and made the whole year round,but is thought to be at its best during the spring and summer months.

When mixed with thick cream, stracciatella is also used to make burrata (Italian for "buttered"): this is a rich, buttery textured cheese which comes enclosed in a bag of mozzarella and is thought to have been originally created in the early 20th century in Andria on the Murgia plateau. It is also now made outside Italy, especially in the United States and Argentina. Since neither stracciatella nor burrata keeps well even when refrigerated, these cheeses need to be consumed promptly, while they are still soft and fresh.
Recipes
As most of soft cheeses Stracciatella can be used in wide array of recipes from a garnish element for pastas, pizzas, bruschettas to a simple cheese for appetizers togheter with olives, semi dry tomatoes and other pickels, with Italian salumis (Parma ham, Spianata piccante, Crudo al Tartufo, ecc.).
Here a link to a wide list of recipes with Stracciatella cheese (in Italian language ...): 
https://ricette.giallozafferano.it/ricette-con-la-Stracciatella/
Laost otsas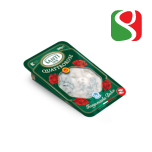 Creamy "Gorgonzola DOP" cheese - 200g
,
Qty:
Contact us by email to order this item
2,99 €