"ЛАМОН" ПЕМОНТЕ БОРЛОТТИ - высокое качество - 820g
Unit:
metallkast
Qty:
In Stock
PIEMONTE Region "LAMON BORLOTTI" beans in brine - High Quality - 820g


INGREDIENTS: Lamon Piemonte Borlotti beans, water, salt.
May contain traces of MILK AND DERIVATIVES, CELERY, NUTS.

NUTRIONATIONAL VALUE x 100 G:
Energetic value (KJ): 380 kJ
Energetic value (KCAL): 91 kcal
Fat: 0,5 g
Saturated fats: 0,1 g
Carbohydrates: 15,9 g
of which sugars: 1,0 g
Protein: 6,7 g
Salt: 1,2 g


PRODUCT DESCRIPTION
Borlotti beans of the Lamon Piemonte variety in brine.

USE
Ideal to add a Mediterranean touch to any dish, especially to enhance
soups and salads. Also perfect served with meat or fish.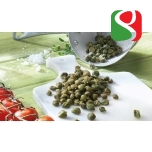 12,95 €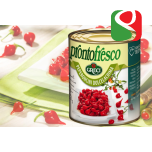 "Sweet Tears" RED MINI Peppers 790g
13,74 €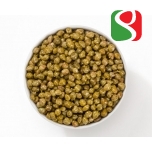 Capers in olive oil - 380 g
9,39 €