Laost otsas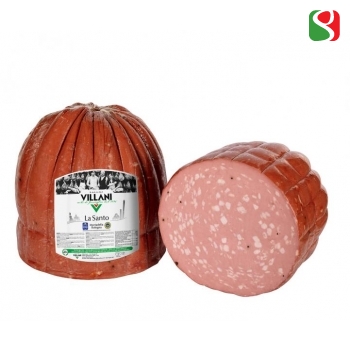 Zoom
"La Santo PGI Bologna Mortadella" with pistachio, 1/2 in vacuum, around 2,5kg
Unit:
kg
Qty:
Contact us by email to order this item
Price:
37,89 €
15,16 €/Kg
"La Santo PGI Bologna Mortadella" "La Santo VILLANI". In vacuum - around 2,25 kg
INGREDIENTS: pork meat, pork tripe, salt, sucrose, pistachio (0,3%), spices, natural flavours, antioxidant (sodium ascorbate), preservative (sodium nitrate).
Dairy-free. Gluten-free.
No added polyphosphates.

NUTRIONATIONAL VALUE x 100 G:
Energetic value (KJ): 1106 kJ
Energetic value (KCAL): 267 kcal
Fat: 23,0 g
Saturated fats: 9,2 g
Carbohydrates: 0,5 g
of which sugars: 0,5 g
Protein: 14,5 g
Salt: 2,3 g

WEIGHT: around kg 2,25.
DIAMETER: cm 23.
QUALITY: light, easily digested PGI mortadella. Made at the Villani facility in Bologna in compliance with the Mortadella Bologna Consortium regulations. La Santo is made from derinded pork shoulder trimmed of fat, with pieces of neck fat. The beef bladders are hand-tied.